This promotion is discovered by me, so dear webmasters please link to this source on your posts.
Mcafee virus scan plus is now free for another 90 days as a self promotion by mcafee. To get this free offer , just follow the simple steps below.
1.) Go to the special promotional page to
get free 90 days mcafee virus scan plus
2.) Scroll to the bottom of the page and Select 90 days trial button and click on 'Subscribe now' button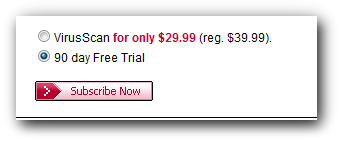 3.) Now login or create a free Mcafee account by filling form and click on I Agree button
4.) Click on download now button.(screenshot below)

If you dont see this follow this - Now click '
Go to My Account
'(exsisting mcafee users) or '
My Account
'(new users) link on print receipt page(My account page for new users).
Don't close this webpage
.

If you already have a mcafee account, no need to follow 5th,6th and 7th(?) step
.
5
.) Now check your email inbox, that you have used for the creation Mcafee account. You should see an email from Mcafee (subscriptions@mcafee.com) which contains your account activation link. Click on the activation link which mentioned on this email.(This step is only for new accounts)
6
.) Then Go back to the web browser where you left it open (in step 4.)
7
.) Click on Download Now button to download 90 days Mcafee virus scan plus(screen shot below)
8.) Click on ' I Agree' button .
9.) click on download button and download it. Install it, it does not requires any serial key for 90 days trial(
This trick is firstly discovered by me

.
Enjoy it)